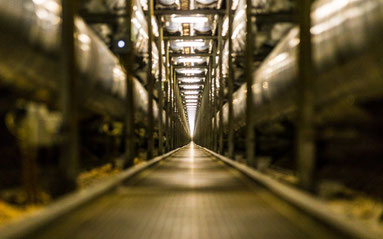 We have seen heat networks become ever more popular over the last few years, particularly in social and market rent housing and we did it because it was seen as a good alternative to individual heating systems and a 'good thing'. But more recently there is growing evidence that heat networks are not delivering on their efficiency promise. Is that about to change in 2016 and will there be a new approach and a new realism that means we can at last build and manage heat networks that create good value, reliable and low carbon heat for homes?
First off it is clear that heat networks are here to stay. We have built thousands of homes that are now connected to heat networks and there is a growing pipeline of schemes. We also saw in the Government's Spending Review £300m in funding to support 200 heat networks across the country, opening the door to £2 billion of infrastructure investments in UK cities which will see this pipeline grow further. This will help to bolster the ambitious plans of cities such as Birmingham who have been doing lots of leg work to get heat networks developed. 
However, there it is clear that many schemes are not delivering and costing customers and property owners potentially millions in extra costs. The main culprit is that schemes are not delivering their hoped for efficiencies – anecdotally we hear of schemes achieving efficiencies as low as 20%. This is literally burning money. But of course it is more complicated than this and up to now the people have been too afraid to open the Pandora's Box and tackle the issues.
A big part of the problem is are we brave enough to admit that we were making this up as we went along – the heat network market is still developing and there is still limited regulation to support schemes? The question that then follows is who is in charge? On the one hand we had schemes being designed and developed as an add on or simply a tick box for planning, and schemes being managed after the fact. The choices in the market have also been very limited but we have seen new entrants coming in and with more competition comes innovation and choice.
The good news is this is beginning to change. Many property managers especially in the social sector are waking up to the fact that schemes are costing their customers or themselves – or both – far more than they should do. They have taken a deep breath and rolled their sleeves up to address the sometimes complex and messy issues.
Regulation is also starting to have an impact on peoples thinking and its having a positive effect. Did anyone notice that we passed a significant new compliance deadline recently? In fact the submission date for landlords to notify the National Measurement Office of their heat networks was 31st December 2015. While the regulations bring quite a few challenges themselves the spin off was that it made people just start to ease the lid off the Pandora's box and see what schemes they had and what needed to be done. And while they often found things they didn't like, they did start to address those issues.
At the same time there is now a much better understanding of how to make heat networks work, and there is more support than ever to do this. There are some key things to get right – such as metering - that make a big difference but one lesson we have learnt is that it's the people part of the puzzle that matters as much.  More recently, the National Measurement Office has just issued new guidance and we saw the Heat Trust scheme established. Even more important to remember is that no one is alone in this – everyone we come across is tackling the same issues.
So will 2016 be the year that we get Heat Networks right? With new regulations, new funding, more support and a new realism I think the answer is yes. We need to stop thinking of heat networks as a good thing in themselves but think of them as a good thing if we get them right.