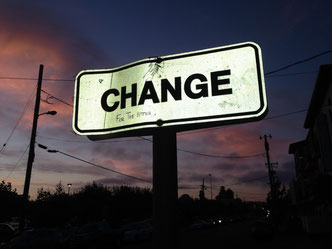 In a period of radical change in social housing with some, including Lord Kerslake, arguing we could see its elimination, it's more important than ever to raise our sights to the horizon to look at other changes that could see social housing change for the better and forever.
At a recent session of social housing providers, I was reminded of one of the reasons I have loved working in the sector – its ability to respond positively to changes in the economic, political and regulatory environment. Everyone in the room saw the issues, but was determined to turn adversity to its advantage and create new opportunities for the sector.
 While there is also a sense that these things are being done to the sector – there is a whole world of change outside of this that social housing could embrace and begin to take charge of its own destiny. Can the sector harness it's built-in optimism and desire to challenge the status quo to once again show what it's capable of? The changes are coming – it's now up to the sector to decide what to do with them. So what are the changes that are coming? We outline below some of the ones we believe could have the biggest potential in the sector.
Tesla Cars: first off if you ever get the chance to drive a Tesla, do. Yes, it's a beautiful car. Yes, it's electric.  But what Tesla have done is bring those elements together - that have existed for many years - and made not just a step change, but a leap in to the future.  I was lucky enough to drive the first Tesla Roadster a number of years ago, but a few weeks ago I got to drive the proper grown up Model S and even on a wet dark south London route, I was left both grasping and gasping for the right words to describe it. In a short few years they had created something truly amazing.
So what's this got to do with housing? Well, firstly Tesla have taken an industry as well established and entrenched as housing, picked it up and thrown the bits in the air. It's a lesson in bringing new thinking to an old problem. Are we capable of doing the same in housing I ask myself?
But more directly it will be Tesla's impact on the supply, management and storage of energy that will change our homes. And some of this we see in the Tesla Powerwall – the much hyped Apple-esque battery. But energy storage in homes is being rolled out by many others and some of them are here in the UK. What Tesla brings is sheer scale and demand for batteries – with the gigawatt factory and new developments in graphene, we will see the price and capacity of batteries change radically in the next few years. And for home owners and the energy industry, this means we will have homes that will be able to generate, store, use and manage energy in ways that were not possible until now. The result will be homes that will of course have lower energy costs, but just as importantly they will become large scale energy generators and managers of the UK's energy requirements.  And that will mean our homes will start to have value beyond their bricks and mortar.
Amazon: that beloved nirvana of idle internet shopping and the one that continues to shift our sense of what customer service can be, is having an impact way beyond our ability to buy anything, anytime. And it was one that was almost an afterthought. When Amazon decided to begin moving their retail computer infrastructure to the internet it was suggested that some of this capacity could be sold to other users. This was back in 2006 and now cloud services has revenues of $2.1bn with operating margins 25%. While this is impressive, what Amazon (and others like Amazon) have done is commoditised web and cloud services, and radically reduced their costs and the level of investment required to set up new services and make them scalable. All of a sudden we can store more data, more cheaply and make it available anywhere.
Great news for funky start-ups, but what's the news for housing? For whatever reason housing and data have often simply failed to work together that well. What we knew about our housing stock was most often out of date and often wrong – I have worked for housing providers that didn't even know where all their homes were, but even that was better than the data we had on customers. And part of the reason for that was how to get the data, where to put it and what to do with it. We had bad data and often failed to turn even that in to anything approaching knowledge. With cloud services this will now be much easier – the challenge is where to get good data and what to do with it. Which us leads to the next two developments that will change housing forever.
Smets2: this charming acronym is the technical specification for the next generation of smart meters. It is eagerly awaited by the energy industry and many others because it is the final piece of the jigsaw that will see 53 million new meters put in homes between now and 2020. In combination with the launch of the Data Communications Company in August of this year, we will at last see real, comparable data being generated from all of our homes. I have written a lot about smart meters in the past and support their roll out but I always feel the need to say they are not perfect. Because they are not. But they do open many new opportunities including income generation, energy supplier swapping and better tariffs.
For housing providers, the greatest opportunity is going to be the data they create – and for first time we will be able to assess the performance of our homes, the performance of our investment in our homes and no longer rely on drive-by surveys and poor theoretical models that bear little relationship to the world we live in. Want to know if that multi-million investment in new heating has actually worked? You'll be able to find out soon.  And just as importantly they will help to identify customers at risk and provide the cost effective means to help them. I will go even as far to say that if we do this right we will eliminate fuel poverty in social housing.
Broadband: OK so this one has been around for a while, but have you noticed how this has morphed in the last few years from an extra to a utility? Just ask yourself if you check if the holiday you book has wifi and broadband and I bet that unless you are going all Bear Grylls you increasingly hesitate to book a holiday that doesn't have it? We provide homes with water and energy, but haven't really come to grips with broadband-  but now we should. And the relevance to housing is not just because of its utility status – it creates new opportunities for housing providers to work with customers and provide new services that will reduce their costs and increase their opportunities. Luckily there are some housing organisations and broadband providers who now see this. We need to get on with it.
NTBMs: nope not an elite form of NIMBYS who don't want new housing near them, but Non Traditional Business Models. It's the Ofgem term that trips of the tongue  to describe all those energy suppliers who don't fit in to the model of the Big Six energy suppliers. And since they first coined the phrase in early 2015, it has seen an explosion in new providers and models: there are now 30 energy companies and the Big Six has lost 20% of the market. And a fair few of these new providers have seen the potential in social housing. But I would argue that this is just the first phase and we will quickly move away from this traditional retail model, whatever the market.  Combined with smart meters, energy storage and smart grids we will see even more opportunities for housing providers to deliver better services and lower costs for customers, as well as generate new revenues.
At a time when others seem to be setting the agenda for housing, isn't it time that housing started looking to the future to help it set its own agenda again?